–
About campsite
CAMPSITE OPEN JUNE, JULY, AUGUST
RESERVATION REQUIRED – RESERVATION FORM BELOW
Campsite Stříbro is situated, only 4 km from the town Stříbro.
Fishing at the Hracholusky dam. Non-stop fishing (16.6.-31.8.)
Permitted use of petrol engines.
Sale of fishing license in the town of Stříbro:
Fishing needs
Benešova 521
Monday – Friday: 9:00 – 17:00
Saturday: 9:00 – 12:00
Surrounding nature and sights offer ideal conditions for trips and cycling.
Accommodations
Hut for 4 people
(Equipment: 2 bunk beds, bedding, fridge, kettle wardrobe and outdoor furniture)
Places for tents and caravans with el. connections.
Possibility to make a fireplace or grilling
Equipment of the campsite
Toilets, showers with hot water.
Kitchenette, wasching machine
Snacks with sausages, beer, pizza and ice cream
Playground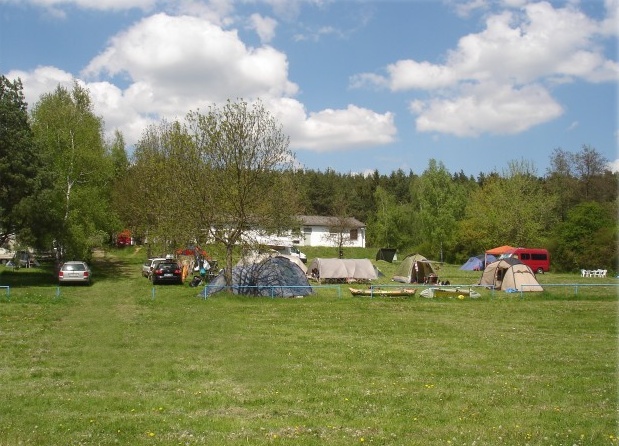 –
Price
Hut for 4 person
Hut up to two people ……. 800 CZK/night
Hut for 3 or 4 people …… 1100 CZK/night
Rent bed linen …………….. 50 CZK/pcs.
Accommodation in the campsite
Person over 18 years old …. 150 CZK/night
Child 3-18 years old ……..…. 50 CZK/night
Child to 3 yers old …………………………free
Car ……………………………….. 100 CZK/night
Tent, Shelter ……………………. 50 CZK/night
Caravan ………………………… 100 CZK/night
Camper …………………………..200 CZK/night
Electrical connection ………. 100 CZK/night
Dog …………………………………………….. free
Moto ……………………………………..……. free
Price incl. local fee 30 CZK and VAT..
Cannot be pay by bank card.
We accept payments in euros.
–
Contact
Phone:
To make a reservation, fill out the reservation form below.
+420 606 860 870
Our address:
Butov 478, 34901, Stříbro
–
Reservation
–
Photos